Posted by George Bravos on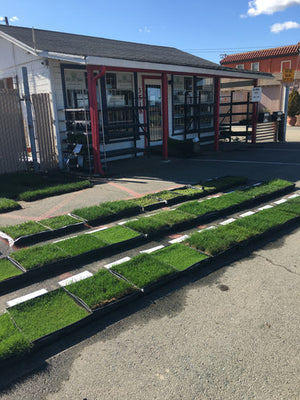 With changes in climate, California has increasing drought tolerant conditions and water conservation is more important than ever. At Sod and Seed, Inc. we work to ensure our sod blends are both drought tolerant and healthy year-round with sod choices that are Water Star and TWCA certified. Read on for more information on sod choices!
Tags:

bermuda, bermuda grass, bermudagrass, best grass for california, best grass for drought, best grass seed, best sod, best sod for california, best sod fro drought, best sod lawn grass, Better Sod for Drought in 2022, california water conservation, Certified Drought Tolerant Sod Selection, cost of sod, Drought Tolerance and Aesthetics, drought tolerant, drought tolerant grass, Drought Tolerant Grasses, drought tolerant lawn, drought tolerant sod, dwarf tall fescue, dwarf tall fescue and bluegrass, enduro sod, enduro sod lawn, evidence based, farm, farms, free delivery, grass, grass delivery, grass delivery near me, grass farm near me, grass pricing, grass ratings, grass seed, grass seed delvery, grass seed for sale, grass seed near me, grass sod, green lawn, ground cover, healthy lawn, Hybrid tall fescue with bluegrass, installation, Kurapia, kurapia lawn, lawn, lawn delivery, lawn installation, native grass, native grass seed, native sod, organic sod, research, research based, save water, sod, sod and seed, sod cost, sod delivery, sod farm, sod farm near me, sod farms, sod for sale, sod installation, sod near me, sod prices, sod pricing, sod ratings, sod reviews, sod samples, The Best Drought Tolerant Sod for 2022, Turf Grass Water Conservation Alliance, turf type, TWCA, university research, water conservation, water saving, water savings, Water Shortages and Sod Lawns, water star
Posted by George Bravos on
Join us for the most common questions about sod and landscaping and answers from the pros. We will cover many areas including watering, mowing, fertilizing, lawn preparation and install, lawns for pets, best-practices and more!
Tags:

13 Common Q & A's About Lawns and Landscaping, bermuda, bermuda grass, bermudagrass, best grass seed, best sod, Can I install Sod On Top My Old Lawn, cheapest grass, cheapest sod, cost of sod, farm, fertiizing tips, fescue, free delivery, grass delivery, grass farm near me, grass near me, grass pricing, grass ratings, grass seed, grass seed delvery, grass seed for sale, grass seed near me, grass sod, ground cover, Hand-Watering a New Sod Lawn, help new lawn, How Far in Advance Should I Order Sod, How long should I Stay Off the New Sod Lawn, How much does sod cost, How Much Does Sod Weigh, How often should I water my new sod lawn, how to prep a lawn, kurapia, landscaper, lawn, lawn cover, lawn installation, lawn mower, lawn mowing, Lawn Mowing Pro Tip, lawn q and a, Lawns with Pets, Low Price Guarantee, mowing, native grass, native grass seed, native plans, native sod, new lawn questions, new lwn questions, new sod tips, organic sod, q and a, Q and a sod, Questions and Answers about sod, seed, sod, sod and seed, sod and seed questions, sod cost, sod delivery, sod farm, sod farm near me, sod for sale, sod near me, sod prices, sod pricing, sod q and a, sod ratings, sod reviews, tall fescue, turf type, What Grass Works Best with Dog Urine, What is the Best Season to Install Sod, When Can I Mow My New Grass Lawn, When Do I Fertilize My Lawn, Where to Buy Sod Near Me, Why are sod prices different, Will Dead Sod Come Back to Life